Brittany Horn | Delaware Online
EDITOR'S NOTE: This story has been updated to clarify that while at least six women received letters from the Wilmington police investigation, five were told their claims were sustained. The story has also been updated to clarify when New Castle County received the results of two separate investigations into Quinton Watson.  
The former deputy chief of New Castle County police, Quinton Watson, sexually harassed women in the department for decades while high-ranking superiors and county officials repeatedly looked the other way, according to six women in the department who said they experienced this firsthand.
With a collective 132 years of experience on the force, these women include captains and master corporals, some of the highest-ranking positions in the department.
Each said they knew a career in law enforcement would be difficult, but none expected to face this kind of harassment – and negligence – from the very people who swear an oath to protect.
The only action taken against Watson to date was to place him on paid administrative leave in the final weeks of his career after one woman filed a formal complaint against him in 2018.
Many of the women's charges have been investigated and "sustained" or deemed "disturbing" enough to look into further by two different agencies in letters dated in 2019 and 2020 – after Watson retired.
Retired Lt. Col. Quinton Watson faces sexual assault and harassment allegations from six women who worked in the department.
(Photo: New Castle County Police Department)
This prompted an investigation, during which the Wilmington Police Department – the outside agency asked to investigate – discovered more women had been sexually harassed by Watson. In letters, Wilmington police sustained claims for five of the six women interviewed for this story.
Watson retired on Dec. 5, 2018, while on leave, as the department's second in command after 30 years on the job.
County officials said Tuesday they took immediate action after the complaints and "removed the accused's law enforcement credentials." But Col. Vaughn Bond, the department's chief, wrote in a letter dated Dec. 18 of that same year that Watson retired in "good standing" despite still being under investigation by Wilmington police.
These six women said they decided to share their story with Delaware Online/The News Journal only after years of inaction by the department and county. Dozens more current and retired officers and county employees have corroborated their stories and shared their own over the past 18 months since Watson retired.
They told of sexual remarks Watson made about their bodies in his office and in the department's hallways. There were Post-it notes and letters detailing what he wanted to do with them sexually. They said uniform inspections served as opportunities for him to touch and humiliate them. There were hair flicks and whistles when he believed no one was looking — and even sometimes when certain male officers were present, they said.
One woman described how Watson placed her hand on his crotch at a holiday party, telling her how aroused she made him. Another recounted the way he would stick his hand into the back of her pants to determine whether they were too loose or too tight. All remember the looks he would give them, the "slimy" way he made them feel with his large, looming presence.
One woman, now a captain, reported the harassment in late summer of 2006 to a supervisor at the time, then-Lt. Bond, now the chief. She said she never received a call from Internal Affairs to discuss the complaint.
Instead, she got a call from Watson himself, who confronted her about her claims. Bond was a close friend of Watson – and would later go on to promote Watson to his No. 2 in the department, once Bond was named chief.
Bond said Wednesday after this story published online that he was not the direct supervisor of any of the women who came forward in 2006, including this captain. He did not return requests for comment prior to the publication of this story.
"That is not true," Bond said of overseeing this captain. "And it was proven during the course of the investigation conducted by the Wilmington Police Department." That investigation has not been made public and is not considered public record.
Even in letters penned to the Attorney General's Office after his retirement, Bond gave his endorsement of Watson as a police officer even as Watson remained under investigation. It's a violation of department policy for an officer to request these certification documents if they're under any investigation that could result in suspension, criminal charges or termination.
"It keeps coming and it keeps coming," said another captain who has been with the department more than 25 years. "It's the biggest hidden secret of the state of Delaware, what New Castle County has basically allowed."
The News Journal does not name those who report sexual harassment and assault claims unless they choose to identify themselves publicly.
Women with the county police department say officials have failed to do enough about harassment they say they endured at the hands of one officer.Wochit
For nearly every woman who spoke, the harassment and assault spanned their entire careers with the department until 2018 when one of them came forward. That complaint prompted Watson's administrative leave.
When Watson aged out of the department that December, he was making $151,785 a year. The full results of the Wilmington police investigation were never publicly released – even to the numerous women interviewed – though five of at least six women interviewed for the investigation received letters sustaining their claims.
Officials with New Castle County and its Police Department have refused to comment on the Wilmington investigation and cited the Law Enforcement Officers' Bill of Rights as the reason the report was not released to the women, the county's police union or Delaware Online.
The Law Enforcement Officers' Bill of Rights protects the records of police officers from being released to the public.
"We stand by every action we have taken to address the concerns expressed by the alleged victims in this matter," New Castle County Chief Administrative Officer Vanessa Phillips said in a written statement Tuesday. "We are the only administration in the last 24 years to investigate the allegations stemming back to 1996, and we have gone above and beyond to ensure that our employees are safe and have multiple channels to report any form of misconduct no matter when it occurred."
The county and Police Department have also denied allegations made in an unfair labor practice complaint about harassment by Watson and the handling of the investigation, which says Bond, County Executive Matt Meyer and others failed to investigate claims of sexual harassment to the fullest extent possible.
The unfair labor practice complaint makes reference to many of the accounts shared by these women, but further argues that the county interfered with the investigation and failed to uphold its contract with the union in this process.
Col. Vaughn Bond, the department's chief, and other officials are accused of failing to investigate claims of sexual harassment to the fullest extent possible.
(Photo: Damian Giletto/The Delaware News Journal)
The county argued in its response filing that this issue is not an unfair labor violation and said many of the women no longer qualify for protections under the union, either because they are retired or civilians or hold too high a rank. No answer has been rendered publicly to that filing.
BACKGROUND: Sexual harassment claims embroil former No. 2 of New Castle County Police
County officials also denied any role in shaping the scope of Wilmington's investigation.
Watson, who declined interview requests for this story,said previously that the statements made by these women are not true and called them racially motivated, an attempt to bring down the county's first black police chief and his second-in-command.
The six women who spoke to Delaware Online about their harassment are white, but all said Watson's actions stretched far beyond race or gender.
The women said they are publicly breaking their silence because Watson has not been formally charged or held accountable for his actions — actions that dozens inside and outside the New Castle County Police Department have known about for decades, and have even witnessed themselves.
"Because we are strong, tough women, it's part of the reason we didn't come forward," said one woman who has worked for the department for nearly 30 years. "We were trying to fit ourselves into a mold of what that life was supposed to be as a police officer in the police community and because of it, we let part of ourselves go.
"We allowed these things to happen because we needed to fit into this society," she said, "so that we could have the careers that we wanted, to do the jobs that we loved."
Even now, they all said they don't want the county's money or even its attention. This isn't a racially motivated stunt, as Watson and county officials have claimed, and it's not going to change what happened to them. In fact, they said it's only ripped the Band-Aid off again and again as people consistently and repeatedly let them down with their inaction.
"This time, it just, it fueled us more because we're all at a point in our lives," she said. "We've seen so much in our careers and in our lives. We've just had enough, and somebody needs to do something about it."
No criminal charges came as a result of Wilmington Police Department's investigation despite many of the internal charges, including conformance to laws, conduct unbecoming of an officer and sexual harassment, being sustained for nearly all of the women. According to department policy, the findings could have led to Watson's suspension or dismissal.
After the Wilmington investigation produced no prosecution, at least six of the women interviewed for this story, in July 2019, each filed complaints with the state Attorney General's Division of Civil Rights and Public Trust, prompting interviews and an investigation by that office.
They had hoped these reports would result in action, but a letter obtained by Delaware Online dated May 1 shows that the division found the statute of limitations for the sexual harassment claims had passed.
Yet, the investigation raised concern. The letter penned by Chief Deputy Attorney General Alexander S. Mackler to New Castle County Council, which requested the state Department of Justice look into the claims, said "the accusations from numerous victims — as well as corroborating information from other witnesses — are disturbing."
"We found them sufficiently troubling that we have retained Potter Anderson & Corroon LLP to investigate whether the NCCPD has engaged in a pattern and practice of discriminatory conduct in violation of Delaware law, and if warranted, initiate enforcement proceedings against the County in Delaware's Court of Chancery."
Mackler also wrote that due to those findings, the investigation is not considered closed.
The women said this is not just about Watson. It's about those in the department and the county who heard their claims but failed to act.
"The nerve of them to stand behind the Police Officers' Bill of Rights, which all of these officers here are subject to," said Michele Allen, the attorney representing the women. "To say they won't release that report when he's not even a current police officer, that, I think, speaks volumes in and of itself as to how they value these women sitting at this table and how they value the charges and the claims that they brought forward.
"They don't."
A 'heartbreaking' response
CHAPTER 2
One of the women said the sexual harassment by Watson started on her first day at the police academy.
Watson, who helped oversee and direct the academy – one of his many roles at the department over his 31-year career – singled her out and pulled her aside repeatedly while she was in training. It took years before she realized this was how he started his predatory behavior, she said.
When she had less than a year on the force as a patrol officer, she had another run-in with Watson. It occurred outside police headquarters as she was heading into the building.
Watson motioned for her to turn around with his hands, she recalled, a signal that prompted her to think something was wrong behind her – a situational awareness tactic taught to her at the academy, she said. After she turned around and found nothing, Watson told her he was just "checking to see whether I was still polishing my brass," she said.
"I couldn't pick a more impressive group of women to have been grouped with. If you think of victim, I would say never in my wildest dreams would a single one of your faces come to mind."
ONE OF THE SIX ACCUSERS
He made these comments, looking her up and down, in front of now-Chief Bond and another lieutenant, she said.
"It's like you've been struck in the face with a 2-by-4," said the corporal with nearly 10 years on the force now. "I might as well have been walking around in a police officer Halloween costume, like a miniskirt and tube top, not an actual uniform with a gun on my hip."
When she told a trusted colleague within the department and recounted the incident, she was met with a "terrifying and heartbreaking" response, she said.
The person told her they would support her in whatever she decided to do, but also reminded her of how the department works: "Just know that you're new and think about what, you have 20 years here (ahead of you), think about what that'll look like," she said.
That fear kept many from coming forward, but not this officer. She ultimately reported Watson.
Her sergeant at the time, upon hearing the story, said it needed to be reported. Under a direct order, she wrote an official memo and sent it up the chain of command despite being terrified it might derail her career. Bond, at the time, was the captain overseeing the patrol unit.
She never heard anything more about the incident until years later, when more women came forward about Watson and his harassment.
She was told the memo she wrote couldn't be found.
A less detailed account of this incident was referenced in the Unfair Labor Practice complaint.
Many of the women who spoke to Delaware Online, now late in their careers or retired, endured this harassment for nearly their entire police careers. It's the youngest of them, this woman with about 10 years on the force, who many look to as the reason they came forward now.
"I tell these women regularly," said the youngest woman, her voice rising as she spoke, "I couldn't pick a more impressive group of women to have been grouped with. If you think of victim, I would say never in my wildest dreams would a single one of your faces come to mind."
Who is guarding the guardians?
CHAPTER 3
During his career, Watson touched every unit within the New Castle County Police Department, one of the state's largest forces with about 400 sworn of. He commanded, at various points, the Crime Analysis Unit, Professional Development Unit, Criminal Investigation Unit, Crisis Negotiation Team, Special Operations Section and the Professional Standards Unit.
In this photo from The News Journal archives, Quinton Watson, then-commander of Safe Streets and a captain within the department, stands with weapons seized from a man who was charged with weapons and drug offenses as well as violating a Protection from Abuse Order. Watson touched nearly every unit within the department during his career.
(Photo: SUCHAT PEDERSON/THE NEWS JOURNAL)
At least two of these units are directly responsible for the training of new police officers, managing human resources issues, and overseeing internal investigations.
But for years, he remained stalled at the rank of captain, shuffling from one unit to another.
"That's a tell right there, that's an absolute tell," said one woman who retired from the department after 26 years but has since returned as a civilian employee. "A chief doesn't have any more control over what's happening at that point when they come in, but they have the control of not promoting them so that's what they did.
"They couldn't fire him because they didn't have anything black and white in front of them at that very minute," she said. "They knew of stuff but they didn't have a formal complaint because that complaint was squashed by someone along the line."
Dozens of interviews with current and retired New Castle County police officers and county employees show that Watson's behavior was a known problem within the department for decades. Everyone had a story about "Q" and most women knew to avoid being alone with him.
Former New Castle County Police Chief and County Executive Tom Gordon said during his time as both chief and executive there were "rumors" about Watson, but no formal complaints of which he was made aware. Gordon served as the police chief from 1989 until 1997, when he was elected county executive and served in that role for two terms before being reelected to the position in 2012.
"I was chief when we hired a large number of women," Gordon said, noting that there were issues that arose as a result of diversifying a largely male force. "If something like this would happen, it would be normally handled by internal affairs."
Gordon was county executive when Watson was moved into the position of risk management liaison for the Police Department under then-Col. Elmer Setting. Watson has also since been named in a lawsuit against the county for his behavior in this role. That suit has reached settlement discussions, according to court documents.
At 6-foot-4, Watson was a "giant supervisor" of a man, one woman said, and his presence was felt both physically and professionally. Despite him no longer being with the department, his presence and reach are still feared. Nearly everyone interviewed for this story requested anonymity due to the concern of repercussions to their career.
They still struggle to even speak out about what they endured, with most saying repeatedly that the paramilitary structure of the Police Department teaches officers early on about loyalty to the force and loyalty to those who you serve alongside.
"As police officers, we are protecting the public. We are the guardians," said one police captain. "Who is guarding the guardians?"
That's the agonizing realization they've all come to face.
There wasn't any protection. They did come forward and report, to friends, colleagues, supervisors, police officers – people who know how to investigate crimes – and yet nothing was done, they said. Complaints were made and action wasn't taken.
To this day, they don't feel that's changed.
A dream, with a cost
CHAPTER 4
Nearly every person interviewed for this story said being a female police officer comes with an array of challenges.
But when you've dreamed of being a cop since the fifth grade, like one captain now in the twilight of her career, you overlook some of the jokes and locker room talk, she said.
Lines can be crossed though, and Watson, who served as her direct supervisor in some capacity for nearly 10 years, stepped over that line often.
"You already come out trying to be smarter but not too smart. Strong but not too strong. You know, all of those things," she said. "And then, to have a boss that's doing this to you, someone you're supposed to be able to trust … who do you tell? And then you become 'that person, that girl.'"
Coming forward against a fellow officer, especially a supervisor, isn't easy no matter what the claims are, said Fred Calhoun, president of the Delaware Fraternal Order of Police. Though technology like body cameras and movements like Black Lives Matter have brought more accountability to policing, it's still "emotionally draining" to challenge the people working alongside you.
"It's kind of difficult in that you have to find someone that's outside of your political chain," Calhoun said. "You have to be almost guaranteed that something is going to happen."
When this woman, now a captain, came forward in 2006, she vividly remembers Bond – who was a lieutenant at the time – seeming shocked at the accusations against Watson, but now-Chief Bond told her he would do something. That something turned out to be telling Watson himself.
Bond said Wednesday after the story published online that he was not the direct supervisor of any of these women at the time.
If a supervisor is informed of any complaints by an officer against another officer, that supervisor is obligated to take it up the chain of command, said numerous retired and current officers, including Gordon.
"They would take it to internal affairs and up the chain of command," Gordon said. "We've had plenty of training over the years on sexual harassment."
Bond has denied in interviews over the last 18 months that he was ever told about claims against Watson. He did not respond to questions for this story, but said after the story published that he wanted to clarify allegations about who he oversaw in 2006.
One woman says a confrontation years ago with Watson in his patrol vehicle still makes her emotional.
(Photo: William Bretzger/Delaware News Journal file photo)
The officer also said telling Bond resulted in a confrontation with Watson in his vehicle that still makes her emotional. The confrontation was over him sending dozens of sexually explicit text messages, a three-page letter detailing all that he wanted to do to her sexually, and groping her both in and out of work.
The messages and letter no longer exist. The woman said she found them so disturbing and upsetting that she immediately deleted and destroyed them. Now, she said she wishes she would have kept them to show what he did.
Her account of this incident, however, is detailed in the union's unfair labor practice complaint filed late last year.
The woman, now a captain, remembers beating on her chest, screaming at Watson as he refused to let her out of his vehicle and tried to downplay what had occurred.
"I'm the girl that you wrote that letter to. I'm the girl you sent those pages to," she remembered yelling. "I'm the girl that you grabbed my ass. I'm the girl that you grabbed my crotch. I'm the girl that you put my hand on your dick … so you save that shit for someone else."
While what she said is not written in the complaint, the filing states "that Watson ordered her into his patrol car and confronted her about not making a formal report of the assault and other misconduct perpetrated by Watson."
He immediately became worried, she said, about who she may have told and what she planned to do. For the next few years, he left her alone.
It took years for her to realize it was because he had found other prey.
Why nothing was ever done
CHAPTER 5
The rumors inside New Castle County Police Department – and even beyond – never went away about Watson.
"Everyone in the county for decades has known that he is a predator," said the captain with 27 years on the force.
But they never progressed beyond rumors for decades and Watson quietly continued his behavior. Women like those coming forward now buried their experiences, the way cops compartmentalize brutal homicides or challenging cases.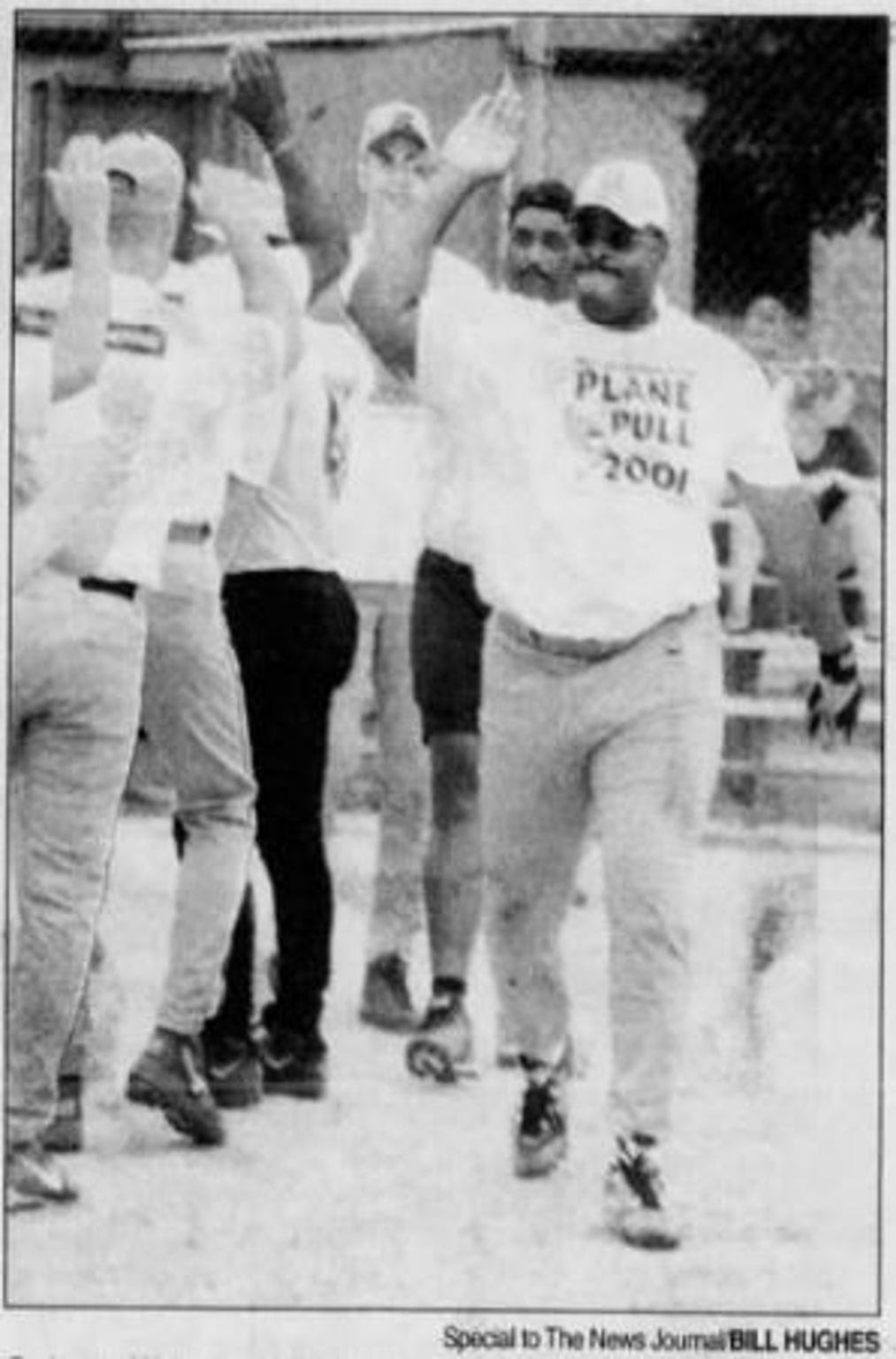 In this file photo from The News Journal archives, Quinton Watson gets high-fives after hitting a home run during a softball game against a team from the Delaware State Police. Watson was with the New Castle County Police Department for more than 30 years.
(Photo: BILL HUGHES/SPECIAL TO THE NEWS JOURNAL)
It wasn't until 2018, when a video posted on Facebook largely identified one of the captains, that she felt added pressure to come forward.
It wasn't the first time she was asked to formally lodge a complaint, she said. On at least two different occasions, she was approached about sharing her experiences with Watson, but years had passed since the groping incidents, she said. And with nearly 25 years on the force, she didn't want that to challenge her career anymore.
Many, including former Public Safety Director Joe Bryant, have called into question why these allegations are coming out now against this administration and this specific police chief, especially when the bulk of the claims originated years ago when other people were in charge.
Bryant also asked why the women didn't take their complaints directly to internal affairs or the colonel's office themselves if they weren't satisfied with the lack of response by their superiors.
"Why did they let it not get there? These people are captains, they're high-ranking officials in the police department," he said. "They all understand the process of filing a complaint."
But many of the women said in interviews and in the unfair labor practice complaint that they did come forward and report it to supervisors – Bond being one of them – and action was never taken.
"I've said something. People said something. People came forward and nothing happened," the police captain said. "Why me, even though I was a captain at the time, why do they think me coming forward now when he was a captain, his best friend was lieutenant colonel or colonel at the time, this isn't going anywhere."
Multiple people interviewed for this story, including Bryant and former County Executive Gordon, confirmed that department policy mandates supervisors report complaints made to them up the chain of command to the internal affairs unit and the colonel's office. These women said that never happened.
The letters the woman received from the Wilmington investigation were signed by Lt. Richard Dunning, who oversaw the New Castle County Police Department's professional standards unit. He wrote that charges against Watson were "sustained" on nearly every count, including conduct unbecoming of an officer, and sexual harassment.
The women were not satisfied when county officials told the women there was nothing more they could do because Watson was retired.
BACKGROUND: No. 2 in NCCo police department is out pending personnel matter
So they compiled their charges against Watson and gave them to acting Public Safety Director Michael Hojnicki on June 7, 2019. Rather than read their complaints, he turned the documents over to the county, which promptly returned the sealed manila envelope to an attorney representing the county police union.
These written complaints mirrored the accounts the women shared with Delaware Online and were further corroborated in the unfair labor practice complaint, which also notes this meeting's occurrence.
The lack of results prompted the union to compile and file in December an unfair labor practice complaint into the handling of the investigation and the failure to release the findings of Wilmington's investigation. County officials, including Chief Bond, called the claims "baseless" and "a new low" for the union's tactics. A final decision on that back and forth has not been made public by the state Public Employment Relations Board.
New Castle County Executive Matt Meyer named Vaughn Bond as chief shortly after he took over office. Bond then promoted Watson to his second in command.
(Photo: Jennifer Corbett/Delaware News Journal file)
The same summer, the women approached New Castle County Council with their stories.
Though the meeting occurred in a closed-door executive sessionin June, Councilman George Smiley said once the council was back on the record that he didn't think "anyone in here is more outraged than me about what we just heard." Many of the women left the meeting in tears.
At the time, the County Council said they needed more legal advice before they could make a determination about what they were allowed to do.
And quietly, the attorney for the County Council inquired with the Attorney General's Office about what could be done. But the claims had already made their way to the Division of Civil Rights and Public Trust.
Still, nothing has been said publicly to validate these women.
A letter penned by Bond dated Dec. 18, 2018, said that Watson retired from the department on Dec. 5 "in good standing"  and endorsed his application to carry a concealed deadly weapon.
The letter, filed with then-Attorney General Matt Denn's office, noted that "the retired officer's criminal record has been reviewed and he or she has not been convicted of any crimes greater than a violation since the date of his or her retirement."
Yet the women did not receive letters or information from the county about the findings of the Wilmington Police Department's investigation until February 2019. At the time this letter was signed, Watson was still under investigation.
The women, who were told all along that they wouldn't be taken seriously and change wouldn't come, have not given up.
"What they feared all along about taking it to its highest level is exactly what came true," said their attorney, Allen.
The county continues to stand by the Law Enforcement Officers' Bill of Rights, as well as citing these investigations as "personnel matters." Meyer's administration said it has implemented mandatory sexual harassment training and immediately turned to an outside agency – Wilmington police – to investigate these claims to the fullest.
But without further information into the scope of the investigation or the release of the report, many, including these women and the police union, said it is impossible to know what was really uncovered.
The result, Allen said, is that county government is culpable for its inaction.
"He [Meyer] did nothing but continue to perpetuate this sanctuary of sexual harassment that existed there for decades," she said. "It's egregious at its greatest level."
BEHIND OUR REPORTING
Why we're doing this story
Police officers are the very people tasked with keeping the public safe, which makes their adherence to the laws they enforce a huge concern and focus of the public. Police departments are also inherently agencies that do not encourage or prohibit speaking out against fellow officers or the department due to their paramilitary structure.
How we're doing this story
Before we wrote our first story about Quinton Watson after he was placed on administrative leave in 2018, we were digging into rumors about his conduct and trying to track down more information, despite the protections afforded to officers under the Law Enforcement Officers' Bill of Rights. Since then, we've been talking with retired and current officers as much as possible to learn more about the conduct going on inside the department and corroborate those accounts.
Our approach to covering this topic
After dozens of interviews with current and retired officers, this story is the latest in our yearslong investigation into this department and conduct within it. The News Journal will continue to interview those who say they've experienced this firsthand and tell the stories of those otherwise silenced. If you know of misconduct or want to share information about what you've experienced, please contact investigative reporter Brittany Horn at bhorn@delawareonline.com.
Thank you for supporting local journalism.Share this special subscription offer with family and friends.
Do you have information about Watson or harassment in New Castle County? Contact investigative reporter Brittany Horn at (302) 324-2771 or bhorn@delawareonline.com. Follow her on Twitter at @brittanyhorn.
Source: Delaware Online